WHY BASIC THINGS ARE NOT IN OUR BOOKS ?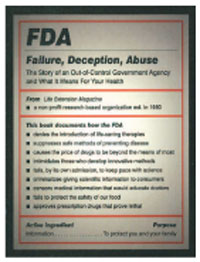 Why in this modern medicine era, these basic things are not being taught to us ? Today, we have most advanced technology with genetic engineering and robotic surgery etc. When we tried to find out the cause why these basic things are not being given importance in our medical books. We found a lot of unbelievable things on internet. A lot of material on FDA corruption with many things on Big Pharma and FDA nexus is there. Even a letter to US president OBAMA is there, written by their own scientists on FDA corruption at highest level. If it is even 1% true, then it is very unfortunate. If it is so, then all of us (Doctors) are being used for benefit of big pharma and other companies. We should evaluate the situation to find out the truth to save the people of nation and its economy.We all know that human race cannot function effectively without honesty, integrity and compassion.
In India, we are being taught by western books. All medical education is totally influenced by western research. All major Projects & research are funded by big pharma companies. These companies invest only on those reasearch projects which can be patented. These basic things can't be patented.We appeal to our government & MCI to give attention on this matter urgently to save the people of India.